MiniX NEO A2 Lite
NEO A2 Lite
2.4GHz Wireless Gyro Mouse

NEO A2 Lite is a double-sided 2.4GHz wireless Gyro mouse and keyboard. NEO A2 Lite utilizes the latest six-axis gyroscope and accelerometer technology to give users total control of their MINIX Media Hub for Android™ or other compatible electronic devices.
Gyroscope Gaming Support

Using the latest in 3D + gyro instrument technology, the MINIX NEO A2 Lite comes fully equipped with gyroscope gaming support capabilities - allowing for motion controlled gaming.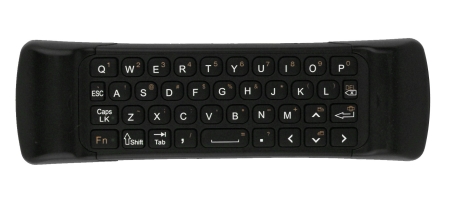 Superior Control & Accuracy

While the spacious keyboard has been specifically designed to enable efficient typing, ideal for writing emails and other typing based activities whilst sitting on the sofa.

Multi-OS Support

The NEO A2 Lite is compatible with the entire MINIX NEO Series – NEO X5 mini, NEO X5, NEO X6, NEO X7 mini, NEO X7, NEO X8, NEO X8-H and NEO X8-H Plus – in addition to all popular OS platforms, including Windows, Mac OS X, Android and Linux.